Trotec to demonstrate leading large format laser cutting at Sign and Digital 2023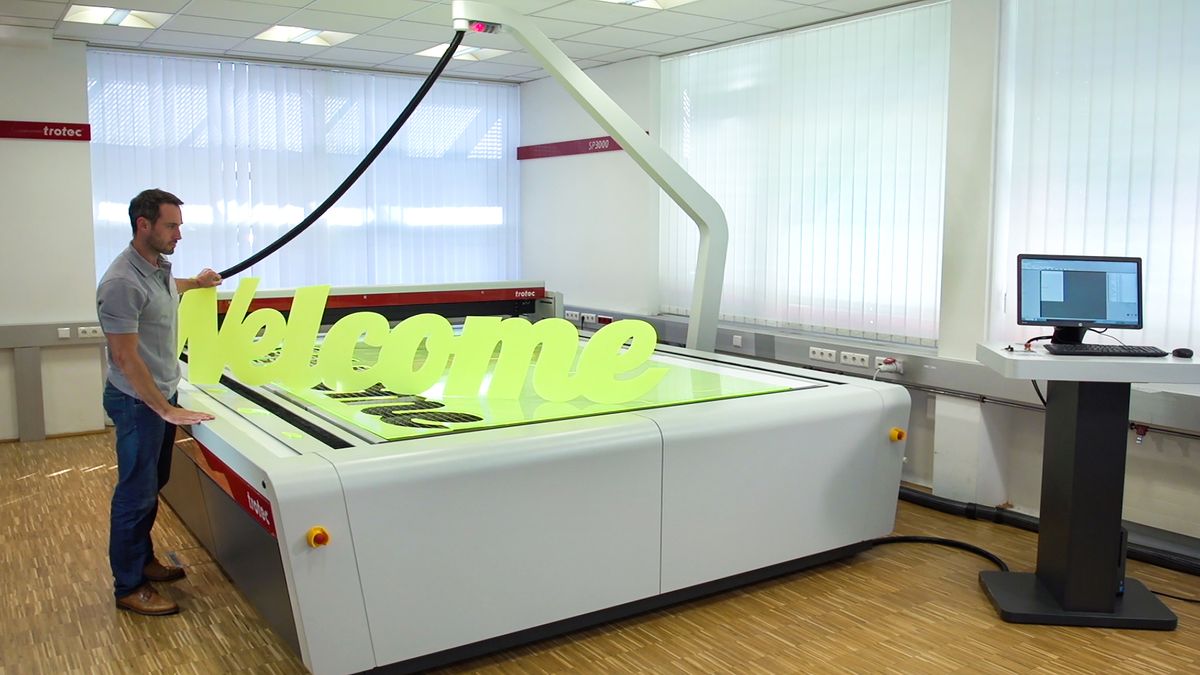 Market-leading manufacturer Trotec is returning to Sign and Digital 2023 between 21st – 23rd March. Visitors to stand J30 will experience first-hand demonstrations of laser cutting and engraving technology for the signs, display and print sector. Featuring laser systems to suit all budget requirements, the show marks the return of the award-winning SP3000 laser cutter to a UK Trade show.
Developed to address the need for highly productive and reliable laser cutting for the sign and print industries, the SP series offers a host of time and money saving features to optimise production.
Tandem Assist is an exclusive feature of SP2000 and SP3000 laser cutters, which splits the working area of the laser system into virtual zones. While the laser is processing in one zone, the operator can load and unload materials in the other zone for non-stop production. In addition, Sonar Technology™ auto-focusing, a travelling exhaust and cutting speeds up to 2m/sec ensure high productivity without any compromise on the quality of the finish. A fully enclosed beam path protects operators while allowing access to all four sides of the laser bed.
The Sign & Digital show will also mark the return of the flagship Speedy 400 laser plotter and the Q500 mid-range laser cutter. With CO2 laser power up to 120 watts, an engraving speed of 4.3m/s and up to 5g acceleration, the Speedy 400 is a reliable workhorse for sign and display companies capable of processing acrylics, plastic laminates, woods and more with ease. The Q500 also offers 120w laser power but has a larger working area of 1300 x 900 and is ideal for cutting acrylics, wood, textiles and more up to 15mm thick.
Trotec's range of laser systems covers a solution to suit most budgets and visitors to the show will be able to see how the different laser models compare with live demonstrations taking place throughout the duration of the 3 day event.
Meet Trotec on Stand J30