Space Creators Cause a Storm at Sign & Digital UK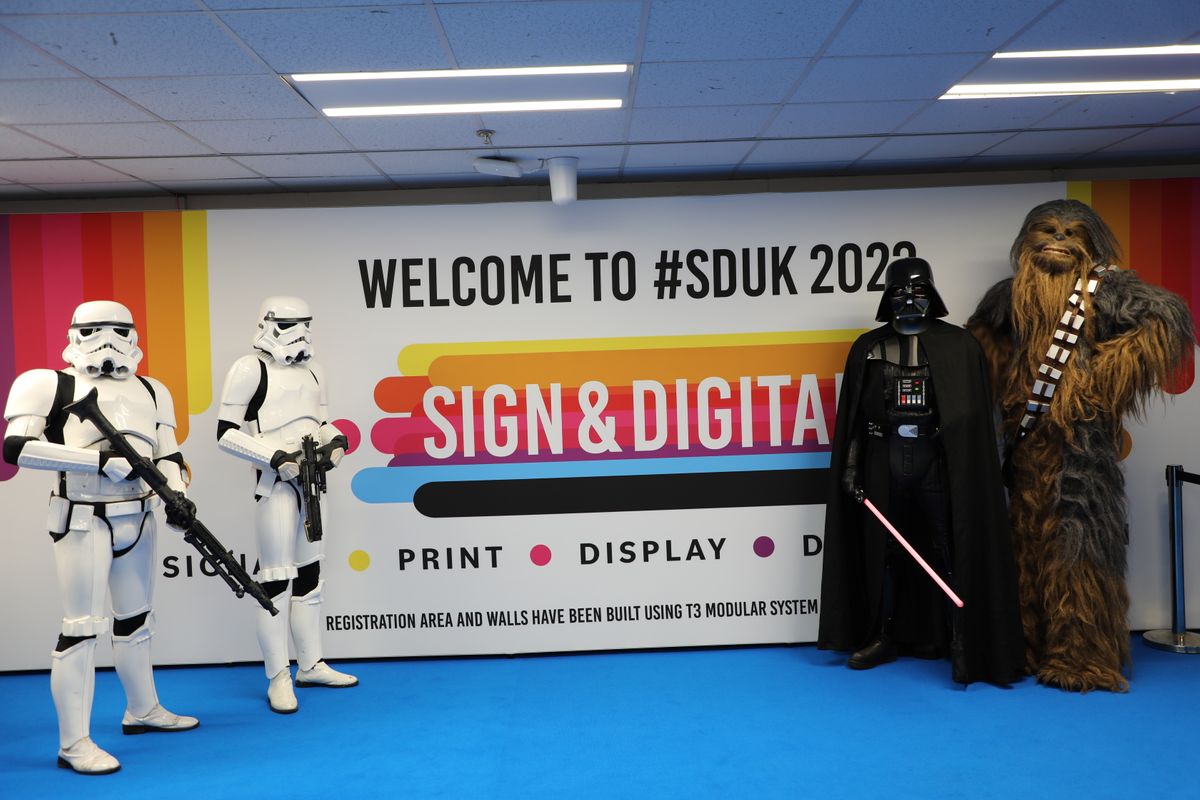 Sign & Digital UK is one of the industry's most recognised and eagerly anticipated trade shows of the year. The event hosts hundreds of leading exhibitors from throughout the sign and display industry, each one showcasing their latest display solutions, from machinery to media, as well as educational talks from key industry experts across the three days. This year, Premier teamed up with newly acquired merchant GPMI, to demonstrate another eye-catching display for their third year.
Located on stand F30, a 110m² plot situated close to the front of the hall, Premier and GPMI's exciting and innovative space-themed exhibition stand spanned as wide as it did high. The bespoke stand was designed and produced by DCE, a West Midlands based exhibition contractor who installed the overhead hanging display, double-sided central shop front and both demonstration zones. The stand included a UFO which was suspended from the ceiling beneath a galactic sized ring banner, making the merchants unmissable from anywhere in the hall. Their presence wasn't limited to stand F30, as an army of Stormtroopers and Wookies led by Darth Vader, were deployed to respond to any displays of signage unrest around the hall and most importantly to be on standby for picture opportunities with visitors to the show.
Premier's stand itself was no different for encouraging photo taking, their 'zero-gravity' zone at, produced using products like Kernowjet Floorshark, Plexiglas and eTEC WV300 had been designed to look as though visitors were launched into space, floating like an astronaut providing the perfect photo opportunity back drop whilst simultaneously showing the products' capabilities. "Our stand at last year's SDUK exhibition was 'Back to the Future' themed and incredibly popular with visitors - our 2023 presence had to have just as big a visual impact, if not better." Marketing Manager, Brad Goldsmith explained.
Two competitions were running simultaneously on either side of the stand, the retro Space Invaders games consoles were an instant hit offering a bit of nostalgia to visitors with the top score holder set to receive a VR headset. Additionally, the Premier Club virtual claw grabber allowed gave visitors the chance to win a selection of prizes and neither activity was without a queue over the three days. "We always aim to create a talking point at the exhibition, before, during and after the event", Goldsmith continued. "We aim to achieve this with a stand that is both aesthetically and physically engaging, incorporating as much of our product portfolio as possible. Based on our badge scans, this year's SDUK event was our most visited stand to date."
Premier's team of display graphics experts were on hand to showcase much of their wide format, sheet media and thermoplastic portfolio with printed samples of products such as eTEC PVC FREE Self-Adhesive films, ContraVision, Neschen easydot, Oppboga and Foamalux, as well rockets and furniture produced using Ultraboard. These incredible printed samples were on display from Premier's demonstration zones along with the latest product selectors, wide format swatches and sheet media swatches produced by midlands-based printer PMT Digital.
Premier's environmental initiative, Carbon Capture®, was another talking point of the event with many visitors stopping to enquire further about how the programme could enhance their environmental business goals. Premier's Sustainable Business Director, Hussein Ismail was there to discuss the initiative, "The amount of interest in Carbon Capture was great to see. Seeing how many businesses want to elevate their Corporate Social Responsibility objectives and join the journey to net zero with Premier is encouraging." explained Ismail.
To learn more about Premier's and GPMI's display graphics product portfolio, visit www.paper.co.uk or contact your local branch for samples, swatches and pricing.