Rethinking the modern workplace: A guide to environments and workplaces that are consistent with the brand message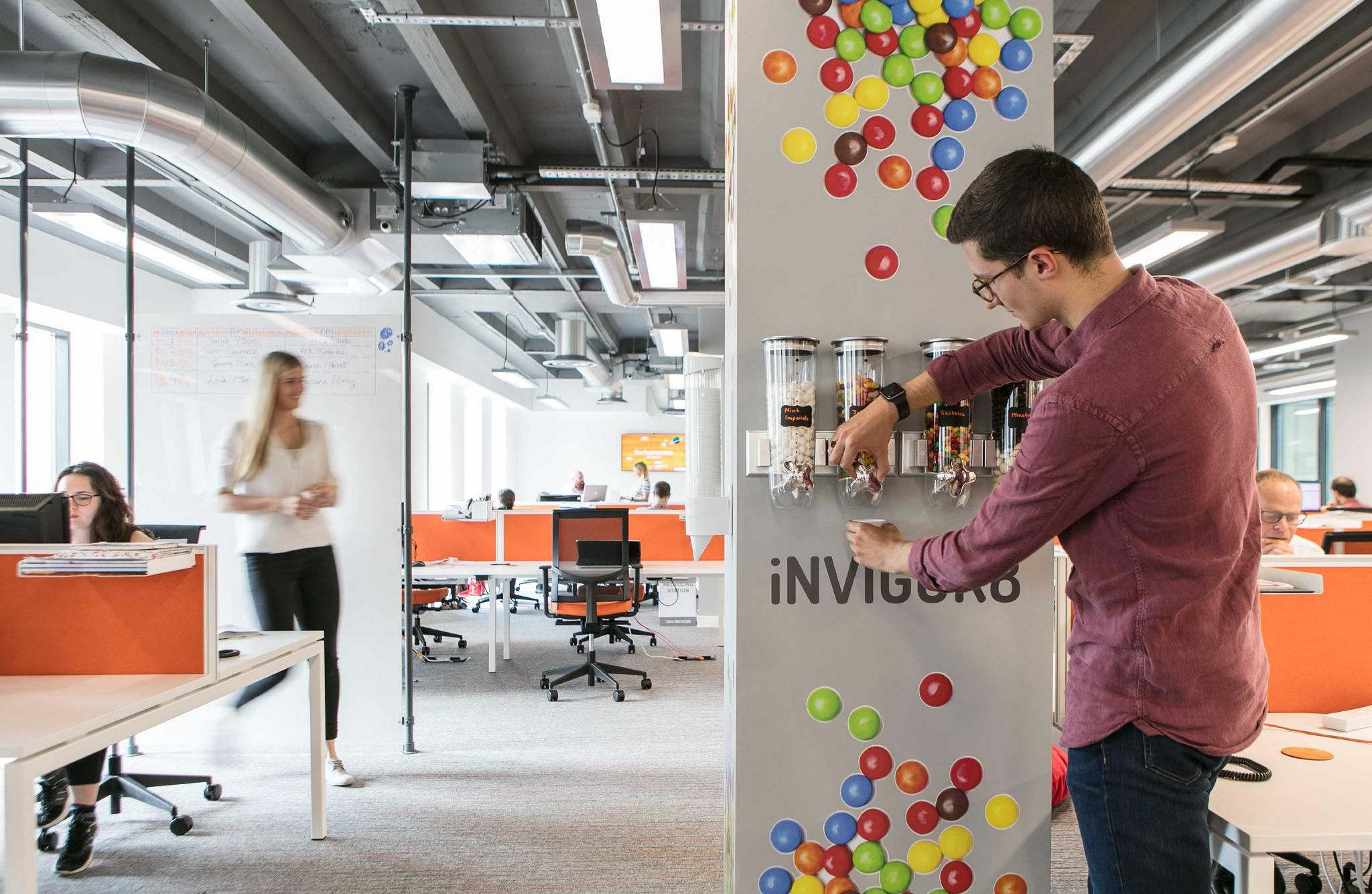 Here at Interaction we know that an office often acts as a showcase for your business; it's a great opportunity to reinforce your brand message and your company's philosophy – whether that revolves around creativity, hard work, professionalism, or all of these aspects combined.
Branding in a workplace doesn't have to be explicit, such as having your logo displayed on every possible surface area. A clear brand message can also be achieved in more subtle ways, through design quirks and the overall atmosphere created.
To get you inspired by the various ways that effective workspace branding can be achieved, we've chosen a selection of our projects where we've aligned design and brand consistency; something we've perfected over our 25 years of designing and building amazing workplaces.
As Insurance specialists founded over 200 years ago, SunLife required a workplace that reflected their historic reputation and one that facilitated a more agile working culture. A key feature in achieving this was a hand-made tree, which has a far deeper meaning than simply reflecting the company's logo.
Inspired by the way a tree's rings represent years, the workplace's central tree highlights SunLife's embodiment of experience and knowledge; two key factors that lie behind the brand. In addition, the space acts as the perfect breakout area for staff members who want to have a spontaneous meeting or find the headspace during busy days.
Keen for an office that mirrored their vibrant and energetic brand, we explored eXPD8's culture when planning for their new workplace. We then implemented design elements to reflect this – including sweet machines, a large breakout area with a graffiti mural, and an overall fun yet professional design.
Commenting on the project, Mark Thurgood (Co-Owner and Founder at eXPD8) said: "We wanted someone who understood our culture and could help us evolve and craft our vision around our business ethos. Interaction clearly demonstrated this from the beginning and quickly grasped what we were trying to achieve …and the result is a progressive office space that completely encapsulates eXPD8".
After a significant re-brand, we took the opportunity to create an exemplar workplace for FluidOne – one that was heavily influenced by reflecting the company's new corporate identity and cultural values.
With features including a ping pong table, games consoles, beanbags, golf putting machine and a fully functional bar, the overall result is a rejuvenation that demonstrates FluidOne's success, but that also provides employees with a playful and functional space to make a difference to the representation of their identity and business aspirations.
Walk into Vistair's Bristol workplace and it's easy to make an educated guess about their field of work. With a multitude of airplane graphics and a tea point design based on an airport lounge, the team have a workspace that embodies their brand (which aims to provide technology and solutions that enable the aviation industry to deliver world class levels of efficiency).
Bearing these four projects in mind, it is not just design expertise that results in the alignment of office environments with their identity – it is taking the time to get to know a business and their core values. It is this dedication that enables us to create tailor-made workplaces that strengthen a client's culture and brand message.
To find out more about workplace design and build, visit our website: www.interaction.uk.com
Interested in taking part in SDUK 2020? View the brochure for more information: