The Online Print Coach hits the road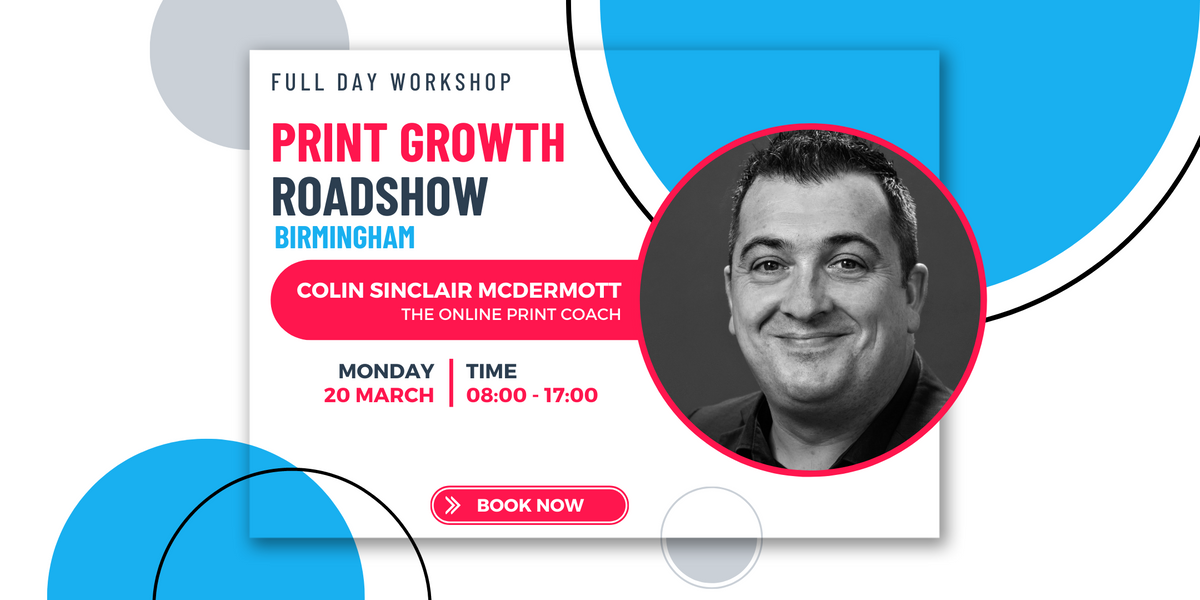 Series of in-person workshops designed to help print & signage business owners boost their sales.
The Online Print Coach has announced the creation of a new workshop designed to provide business owners in the sign and print industry with tips, tools, tactics and strategies to grow and improve their companies.
Founder, Colin Sinclair McDermott, explains, "I know my company is called the Online Print Coach - but the important part of that is the Coach. I believe that every business owner should have a coach. When you're responsible for the success of the whole business, you have to wear many hats. You have to be the salesperson, the marketing person, the production person, the finance person, and you even have to make your own tea! You end up being pulled in so many directions, it's easy to lose sight of what's important."
He continues, "These full-day workshops are a different way of coaching, but they aim to deliver the same benefits. They will give you all the tools and takeaways you need to achieve quarterly growth of at least 20%. And the benefits don't end when the workshop ends. As an attendee, you'll become part of an exclusive 90-Day Challenge that will keep you accountable after the workshop and ensure you actually achieve these goals."
The first session will be held on Monday, 20th March at the Crowne Plaza at Birmingham NEC - the day before the start of Sign & Digital UK. "What better time and place to host the first workshop than right before the industry's biggest exhibition? We will also have a stand at the show, and I expect workshop delegates will appreciate the opportunity to visit the show following their coaching experience."
What's in the Workshop
The full-day workshop includes a 90-day step-by-step blueprint to follow that will see you increase your sales by at least 20% in April/May/June compared to the same quarter last year. On completion, you will be entered into a private group for 90 days, which will provide the accountability critical to ensuring you hit your 20% growth target. After the course, you will be provided with all the templates, checklists and scripts you need to execute your plan and achieve your goal.
Throughout your day, there will be a number of opportunities to open up topic discussions on the challenges you might face and share ideas with other print business owners facing similar issues. And, most important to me, because Colin has organised a full-on day, crammed with so much learning content and planning, you will be kept fed and watered with tea/coffee breaks and a hearty lunch.
Further dates will be announced soon for other locations in the UK.
To register for the first workshop on March 20th, follow the link…
https://www.theonlineprintcoach.com/the-print-growth-roadshow