British textiles: a resurgence?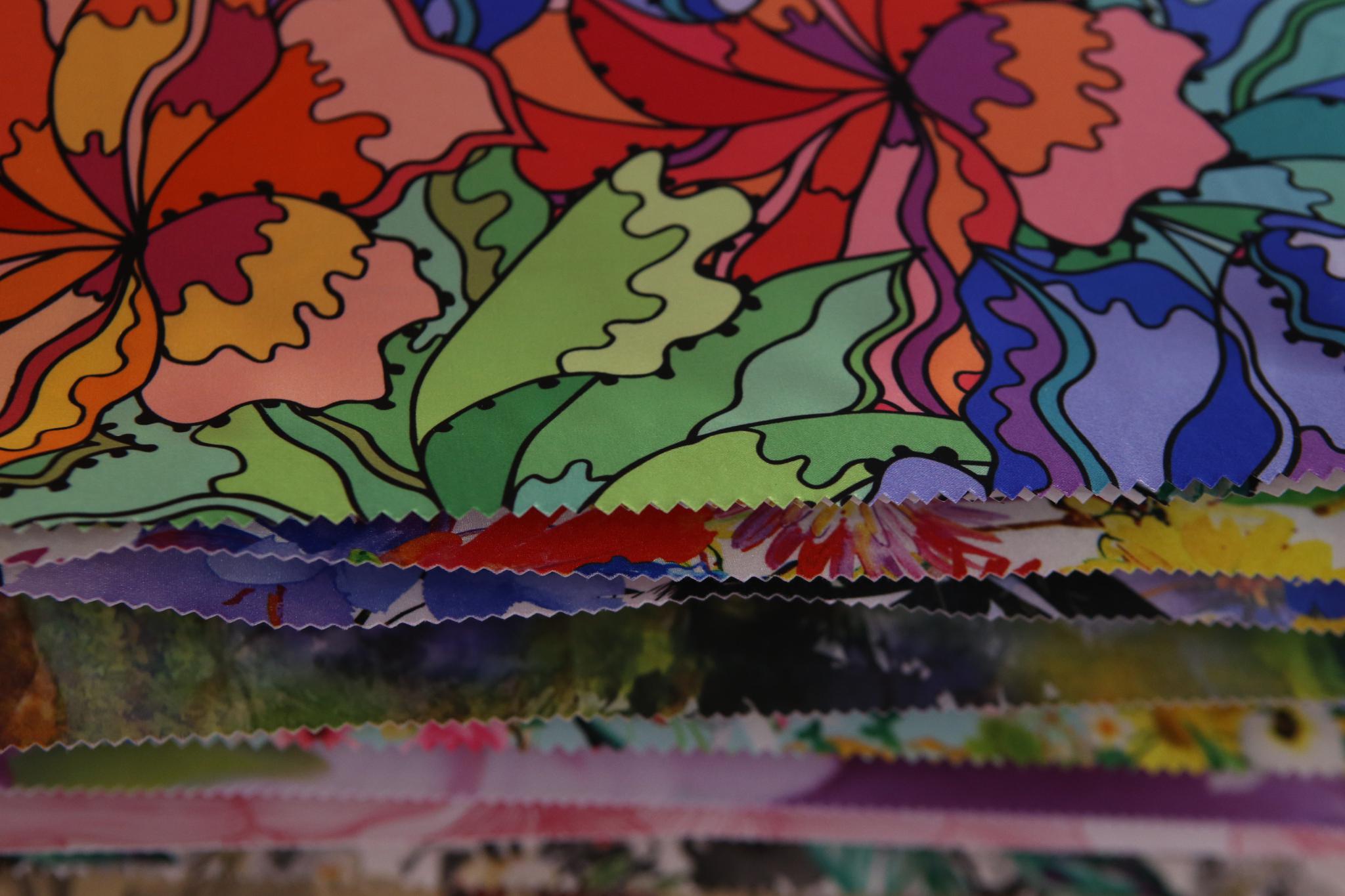 Production of silk fabric began in China as early as 3,500 BC, but by the 18th century, it was part of a global revolution. As production of silk spread to mills in England via the Silk Road, the first global trade route in history, it served as much more than just a trading exchange for silk goods. The interconnected areas on the route swapped cultures, religion, ideas and technology – and the road's heritage is still felt, even today in Britain. That's why the Cheshire town of Macclesfield is recognised by the United Nations as marking the official end of the Silk Road, which once crossed from China via Asia into Europe.
In its heyday, Macclesfield was one of the largest producers of finished silk goods in the world. In 1821, the town's population numbered more than 21,000, with about 10,000 people employed in silk factories. Although the textiles industry in the north of England has suffered in recent times – Bradford's Manningham Mills was the largest silk factory in the world when built in 1873 but closed down in 1992 – many in the sector say the industry is now experiencing an unlikely resurgence, aided by the latest digital technologies for printing onto textiles. Indeed, according to industry group Make it British, brands and high street retailers are no longer relying as heavily on the Far East to source clothing and textiles, as manufacturing begins to return to these shores.
Printing companies such as RA Smart, itself based in Macclesfield, are benefiting. RA Smart operates what it claims is one of the country's largest digital print facilities with the capability to print on cottons, wools, silks and polyesters for fashion, furnishings, sportswear and household textiles goods. Magnus Mighall, managing director, says there is now a "real buzz" about the textiles industry in the UK. He told an audience at Sign and Digital 2018 that his firm had just signed off a £1.3 million deal to supply a digital printing facility for a UK fashion brand.
"These sorts of agreements don't come along very often, and are refreshing to see," Mighall points out. Companies are bringing work back to Britain, he says. "I think there is a resurgence in textiles in the UK, and what's more, it is sustainable." RA Smart is working with a home furnishings brand that is printing special designs on aprons, oven gloves and tea towels, Mighall says. Although the products are basic, "customers are prepared to pay a premium – but it is very important that the goods are manufactured in the UK." Stuart Maclaren, managing director at Your Print Partner (YPP), agrees that the textiles industry is enjoying a period of growth. "At the minute, there are more and more people coming onto the market," he says. "I have always argued that the 'made in Britain' stamp is important. Greater levels of UK textiles manufacturing can only be for the good."
For its part, RA Smart has been involved in using digital technology to print on textiles since the early 1990s. The company was making screens for the printing industry at the time but customers were requesting bespoke, short-run printing systems for printing onto textiles. Mighall says: "Initially, we were manufacturing specialist short run print systems for high-end niche printing on to, primarily, natural fabrics – cottons and silks." With an eye on its customers' short-run needs, it became obvious that the new digital technology used to print graphics in other sectors would have an impact on textiles. "We realised that the technology was going to switch over."
But making that switch involved a lot of experimentation and trial and error. "We played around with the technology for 18 months," Mighall recalls, "not really telling anybody what we were doing. We realised the potential, but it was extremely hard work." This was before dedicated digital machines for printing textiles became widely available. "There was a determined band of people who wanted the technology to work for textiles," he says. RA Smart went on to introduce the first Mimaki digital textile printer machines to the UK. "Mimaki actually introduced a textile printer way back then." This was a machine called the Mimaki TX1600, which became an industry standard digital textile machine. "It was highly successful for our customers," Mighall says.

Textiles printing technology has evolved considerably in the 20-year period since that first Mimaki machine was introduced to the UK. Soft signage is now a key growth area for the textiles industry, explains Maclaren of YPP, which produces everything from printed textile flags and banners to gazebos and exhibition displays. "We specialise in last minute print, so every day is different. Right now, we have eight 3.2 metre printers. They get switched on at six o'clock in the morning and go through to ten o'clock at night. We might process 150 – 300 orders a day, and we can produce 700 square metres of textiles an hour across the machines." Giant, industrial-scale textile printers, such as the Lario from Italy's MS, will now print 1,700 metres per hour of fabric. The last-minute nature of YPP's business suits the requirements of fashion houses in the UK, Mclaren explains. "They can turn around a new campaign in a matter of days, rather than weeks."

Brett Platt, product manager, textiles, Hybrid Services, the official UK & Ireland distributor for Mimaki Engineering, adds that companies can now economically produce smaller production runs of textiles in close proximity to the market. "That's attractive compared to producing printed textile products in Asia. And there are now lots of garment printers in the area around Leicester that are massive businesses." Mark Mashiter, managing director of Soyang Europe, adds that those companies can react to the market quickly – critical in the fashion industry. "Before, if you were printing in China the lead times could be weeks and weeks from manufacture to delivery. Fashion houses want it tomorrow."
The sophistication of the new digital textile printing machines means they are remotely monitored by the supplier, Mclaren points out. If a technical issue is developing that could halt production, it will be flagged up before it becomes an issue. "Our processes can be monitored via an iPhone. If a part has become weak, a replacement will be sent from the factory with an engineer before the machine breaks down. That makes my life easier."
Soyang Europe is a manufacturer and distributor of wide and grand format printable media including printable fabric, printable wallpaper, wall coverings and window films, and it is making inroads into soft signage. Mashiter says: "The soft signage market is still ramping up. We are seeing considerable growth, particularly when it comes to exhibition materials." Going back 10 years, textiles accounted for 10 – 15 per cent of Soyang Europe's revenue. "These days, it is about 50 per cent – and growing. We have three production lines just producing textiles now." These are used for everything from backdrops at museums to soft signage at car showrooms. Another key trend is the use of soft signage in retail environments. "Clothing companies use textile soft signage prints which might show models modelling clothing, for example," Mashiter explains.

Having come a long way since the pioneering days of digital textile printing, Mighall says that the reshoring trend evident in the textiles industry is likely to continue. "We are certainly looking at more and more manufacturers bringing printing product back to the UK, and digital print is allowing that to happen," he concludes. "We are not confined to the very large minimum order volumes that perhaps would be needed overseas."
Meanwhile, Macclesfield, lying at the end of the ancient Silk Road, continues to be a place where highly traditional silk manufacturing takes place. Some processes can't be replicated by the latest technology, explains Mighall. "Some of our processes are very involved and very technical." For example, he says, "we still have four Jacquard looms we use to weave our own silk, principally for menswear – especially silk ties, handkerchiefs and scarves."
Even in today's era of all-pervasive digital technology, it seems some textiles traditions are too good to die out – buoyed just as the industry is experiencing an unexpected, but welcome, renaissance.
Textiles still makes a highly significant contribution to the UK economy, both in terms of economic output and employment.
The total production value of UK textiles is worth just under £9 billion and growing. It supports 90,000 to 100,000 employees in firms within key areas of the UK.
The UK is the 15th largest textiles manufacturer in the world, with the value of production growing since 2009, and export growth across most areas of apparel since 1990. Although competition is fierce, the marketplace is huge. The global apparel market alone has a total value of just under £1.3 trillion (2014). This excludes the market for homeware and other manufactured textiles.
Significant capability still exists in traditional sectors such as yarn spinning, knitting, weaving and making-up alongside growth in technical textiles, materials and composites.
Key clusters of production are located within some of the textiles industrial heartlands of Greater Manchester, Lancashire, West Yorkshire, East Midlands and Scotland.
(Source: The Alliance Project)
Discover Textile Tech at SDUK 2020: