A business case for green/sustainable materials & waste management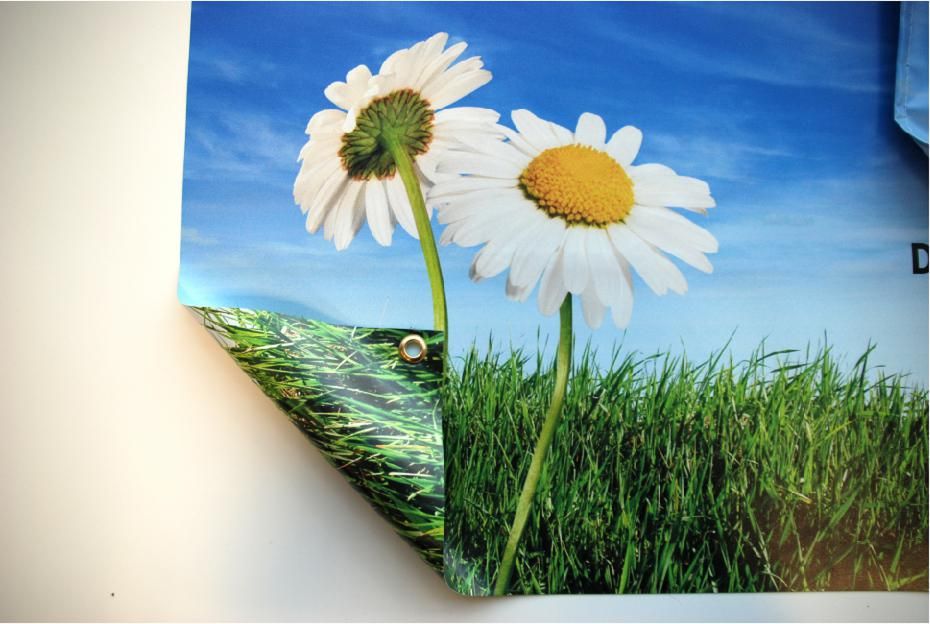 Plastic fantastic

PVC vinyl is actually a fantastic material that does exactly what we want it to do. We can print on it; cut it; sew it; glue it; punch holes in it; shape it; heat it; and wrap cars with it. In fact, there's pretty much nothing we can't do with vinyl to be able to make an honest living out of it. But it is also one of the biggest obstacles to sustainable printing in the sign and display sector.
Vinyl or PVC vinyl (they are one and the same thing) contains Polyvinyl Chloride, most commonly known as PVC. Polyvinyl Chloride is one of the most widely used plastics worldwide and is used extensively in the wide format printing sector, notably for the production of heavy-duty banners while cast PVC films are used throughout the vehicle wrapping sector.
PVC vinyl is also very cheap to produce, and because it is being used in such significant volumes throughout the global graphics industry, it's difficult to think about using anything else, which can make it both a blessing and a curse.

Plastic waste is everybody's problem


Did you know that since the large-scale production of synthetic plastic materials began in the early 1950s, we humans have created more than 8 billion tonnes of the stuff? To give you some idea of how much this is, it's enough to cover the entire country of Argentina.

Since then only 9% of it was recycled; 12% was incinerated; and a whopping 79% was accumulated in landfills or the natural environment, and things are looking set to get a whole lot worse. According to a new study by the University College of Santa Barbara, if this trend continues, roughly 12 billion tonnes of plastic waste will be in landfills or out in the natural environment by 2050.

The China syndrome

In the UK we are producing around 11 million tonnes of domestic plastic waste every year and are supposedly recycling around two thirds of it, but according to a recent report by the National Audit Office, over half of the UK's recyclable waste is actually being shipped overseas on the premise that it be recycled and turned into new products, but in reality this is not entirely the case.

China has been the main 'beneficiary' of the vast majority of the UK's plastic waste for many years, and for decades the UK has been effectively making its plastic waste somebody else's problem, but in January 2018 China took steps to ban the import of all foreign waste materials which has now led to vast bottlenecks in recycling centres throughout the UK. The harsh reality is that we are generating plastic waste on such a vast scale that our waste management and recycling infrastructure has become overloaded.

Since the China ban, environmental experts have warned there is no other solution for dealing with waste which is now stockpiled in countries as far away as Poland and Hong Kong than to consign it to landfill, and to make matters worse, the UK is now offloading its plastic waste to nations with questionable records on marine pollution. In the four months since the ban came into force waste being exported to Malaysia more than trebled, making it the main destination for the UK's waste plastics. Exports to Vietnam increased by as much as 50%, while the amount sent to Thailand shot up fifty-fold. The grim news is that all three of these countries have the unfortunate distinction of being in the top 10 for quantity of plastic waste entering the ocean, with Vietnam, the highest-placed of the three, in fourth place.

The Attenborough Effect

Public awareness of how much plastic has found its way into the world's oceans and the damage it is causing was raised last year by Sir David Attenborough's Blue Planet 2 programme. Following the broadcast many UK politicians found themselves on the receiving end of a flood of telephone calls and emails from concerned constituents, demanding that action be taken to prevent further devastation caused by plastic marine waste.

Today, plastic waste and what to do with it has almost become the zeitgeist of the age in which we live, and people are referring to this as the "Attenborough Effect" in a bid to explain why public opinion has shifted so dramatically towards tackling the problem. The government has since responded by saying it aims to eliminate all avoidable plastic waste by 2042, and the European Union is calling for a ban on all landfills by 2050.

Plastic is public enemy number one

As a result of the Attenborough Effect the large format and signage industry will undoubtedly fall under increasing pressure to become more sustainable. In 2018 packaging had taken the lion's share of the outcry but the mainstream media is already beginning to apply its fuzzy logic to other categories.

There are of course now a range of potentially eco-friendly banner materials available but just as in other markets these carry a premium and perhaps quite simply customers refuse to pay.

So, does this paint a picture of doom and gloom for the industry?

According to Neil Shackleton, founder of the sustainable packaging collective agency Medoola, the issue surrounding sustainability in general is around how we all handle plastic waste. "To be honest, we are doing it rather badly so far," he says. "It is far easier to point the finger at something, let's say plastic in general, because it cannot answer back and removes any thought that we ourselves are the cause, but plastic cannot walk into the seas by itself - nor can any other waste.

"But for now plastic is public enemy number one, and within that PVC's and vinyls are being called out as the worst of the worst because of their high chemical content. While much of this is down to the media and the perception of the public, if you are in the large format printing industry you will appreciate that the process for producing PVC's has over the last few years become far less toxic for the environment, but if this year has taught us anything it is how quickly rhetoric can seemingly become fact.

"So what's lacking here is infrastructure and this is apparent throughout the UK unfortunately. All of our plastic waste recycling centres are at full capacity and as such further investment is needed. New technologies are not far away, but while things are not funded, any excess has only one route and that is to be shipped overseas," he says.

Lean means no greens

The middle of the last decade saw a noticeable movement from manufacturers towards developing alternative 'greener' materials in the sign and display sector, and there was a ground-swell of enthusiasm among many large format printers who were keen to use them. This was also warmly greeted by end users who were beginning to feel the pressure to look into using more environmentally friendly alternatives to vinyl.

However, if PVC vinyl is so cheap to manufacture, sustainable materials are not. It costs a lot to R&D and manufacture a range of sustainable materials that can perform as well as PVC based matter, and as such the cost of 'going green' means that sustainable materials could cost anywhere from 20 - 100% more than plastic PVC materials, and to cap it all off, in 2008 the UK went into one of the worst recessions in living memory.

The recession during the early part of the last decade saw many SME large format printing companies fighting to remain competitive. The customers held the whip hand, and price became the stick with which to beat the print supplier. Furthermore, market enthusiasm for environmental products fell by the wayside as price took precedent in the minds of UK print buyers during this period. Put simply; nobody was interested in sustainable solutions.


You can lead a horse to water…

According to the Image Reports 2018 Widthwise Survey, which reports on the state of the UK and Ireland's wide format print sector, roughly seven out of ten SME print service providers surveyed say their clients never ask about their environmental credentials.

While it goes without saying that there are many large companies and brands who do have strict corporate environmental strategies (even during a recession), these companies tend to only buy sustainable printed matter from the big boys who can ably demonstrate their environmental credentials through a recognisable environmental standard such as ISO 14001.

ISO 14001 is the international standard that specifies requirements for an effective environmental management system. It provides a framework that any large format printing company can follow, rather than establishing environmental performance requirements.

Therefore, if you are a large-scale producer of display print solutions and want to reduce waste management costs and demonstrate your commitment to protecting the environment, working towards gaining ISO 14001 certification will help your print firm to comply with increasingly stringent environmental laws and regulations, as well as building trust with customers who are seeking to work with environmentally conscious suppliers.

Sustainaprint is an SME large format printing company based in the Surrey countryside. It was founded by owner Scott Meader five years ago and is committed to improving environmental performance, preventing pollution and minimising any negative impacts upon the local and global environment while promoting the viable use of sustainable printing materials. The company produces anything from pull-up banners to building wraps and everything in-between.

"Our customers never ask us about our environmental credentials," says Mr Meader. "All they want to know is how cheap can we produce the work. We do everything we can to promote sustainability, but it always comes down to price, and we can't afford to lose the business, which means we are forced to use the cheapest materials in a bid to reduce costs - and of course this means using PVC based materials," he says.

Legislation not self-regulation

Mr Meader believes the way to change public opinion and thereby curtail the use of PVC materials being used for large format printing is through government legislation.

"Self-regulation won't work. This has to come down from the top," he says. "The government needs to be doing more to reduce the way that PVC based materials can be used and this should be through legislation. If people are no longer able to buy cheap PVC vinyl products then manufacturers will ramp up the production of sustainable products. This will also help to stabilise prices which at the moment are wildly overpriced and are off-putting to the end consumer, so there is little or almost no incentive for them to want to use sustainable products."

This is echoed by Clive Hill of Norfolk based Repro Arts Limited, a screen and wide format printing specialist in Great Yarmouth."You can talk about biodegradable and sustainable products until you are blue in the face but the customer still isn't listening. They are not really interested in hearing about the end of life-cycle and how best to dispose of the prints they are buying. They just want everything cheaper today. Back in the 1980's and 90's there was more money to go around, but today with so many fixed budgets, any thought of using sustainable products goes out the window. There has to be some form of government legislation that will force customers to accept alternatives to PVC vinyl."

Alan Rigglesford, managing director of London based Kingswood iOptus, agrees: "We're dealing with fixed budgets all the time," he says. "We always present the sustainable solution, but we know it will always come down to price. Until such time that the government gets involved to restrict the sale or use of PVC based materials in public spaces, buyers are not likely to want to change their habits."

InkTec is a supplier of wide format printing machines and consumables which includes an extensive range of non-PVC based material substrates. The company has been gradually phasing out PVC based materials in favour of Polypropylene and Polyester based products which can be recycled many times over. Business manager Peter Davidson observes that there is an emerging drive from large format printing companies to want to use sustainable materials, but there is very little thirst from the end users to pay more for greener alternative print materials and inks to be used on their finished goods.

"There is clearly no simple or easy answer to this issue. An example was just before the latest recession was hitting the UK, sustainable flexible materials such as banners etc. were being asked for by most of the major retailers. The market responded with some great options, but the uplift in price compared to the products already in use was rejected by the retailers and these new sustainable alternatives soon disappeared from the market.

"In the last two years, along with Mr Attenborough's help, there is a renewed focus on this and the supply chain is once again asking for flexible inkjet materials that can be recycled rather than being totally green, which is a good start. PVC is still a real concern as it is almost impossible to recycle. What many people fail to realise is that PVC banner material, if it is a hybrid material containing elements of nylon for example, will clog the recycling machinery because instead of mechanically grinding the PVC banner into particles, what you get is a form of plastic cotton wool that nobody can do anything with. Therefore, the majority of what gets printed ends up as landfill waste that will still be with us for hundreds of years. The same applies to anything with a laminate. As soon as you print a board and add a laminate, it is destined for landfill. Manufacturers are trying to provide alternatives to PVC but its application properties and price point still make it hard to totally eliminate."

What's the alternative?

The alternative is to use anything but PVC, but if a customer is determined that nothing else will do the job, why not work with them to design a banner that can be reusable from year to year.

Repro Arts Clive Hill says if there is information on the banner that needs to be changed from year to year such as dates or sponsor logos, you can add these elements as cut vinyl and printed stickers that can later be removed and replaced. "The trick to making a banner reusable and customisable from year to year is to design the layout with white space to accommodate any changeable elements," he says. "You should also advise your customer to take care in how the banner is to be stored. Reusable banners should always be rolled and not folded which can lead to permanent creases, and provided it is well maintained and properly stored after use, a reusable banner can provide years of service."

Printing directly onto display boards can also be a more sustainable alternative to using PVC vinyl material but seeing as most foam board substrates used with 'direct-to' printing contain some amount of PVC, however small, they still remain unsuited to landfill. However, for indoor applications, an eco-friendly, lightweight alternative to rigid and foam PVC is Ultra Board Graphic which is made from a 100% recycled core with FSC certified virgin paper facings. Ultra Board says its entire range of boards were developed to provide a 100% recyclable, eco-friendly display panel solution as an alternative to rigid and foam PVC and can be used for both digital and screen printing applications.

What about using aluminium foil-based materials such as Alumigraphics from Soyang Europe for outdoor displays? The characteristics of a foil-based media are completely different to vinyl or other substrates, allowing sign and graphics suppliers to create the feeling of an arresting 'illusion' for their installs. It can be used on walls or floors and conforms to any rough or smooth surface, is easy to install and equally easy to remove, but still retains its durability with an expected performance life of up to a year, even in extreme conditions - and because it is made from aluminium it is a fully recyclable product if disposed of correctly.

Up-cycling banner material

Outdoor PVC banner material is waterproof so instead of throwing it away it can always be up-cycled and used to cover the leaky roofs of storage sheds or turned into an awning or sun blocker, and an emerging trend is to turn discarded banners into something of value such as a fashionable, attractive bag. Pinterest is full of great up-cycling ideas for what to do with used banners including free designs and cutting patterns for making your own up-cycled banner bag. These can also be used for corporate gifts or simply as a way of showcasing the end of life cycle to customers.

Banner Bags in the UK specialises in handcrafting quality bags from advertising banners which would otherwise end up in landfill and is an offshoot from bicycle bag company Carradice. The Banner Bags concept is to create individual bags cut from used PVC banners which take on the colours and graphics in unusual and intriguing ways.

There are many bag designs to choose from such as laptop, flight, despatch, tote shoppers and sports bags and Banner Bags has worked with some of the UK's most prestigious organisations and businesses to help them benefit from up-cycling such as: The Baltic Arts Centre; Coca Cola; Hard Rock Cafe; Kona Mountain Bikes; Natural History Museum; Oxfam; and Virgin Holidays to name a few.

This is a call to action

Is there a need for green/sustainable materials and waste management in the SME large format printing sector? Without doubt there is, but how we might achieve this is a grey area right now.

Without doubt there is much work to be done where sustainable printing solutions are concerned. We can all play our part, but our industry needs to find a way - whether this is via a trade association or a recognised industry body - to explore how we can work with each other within our own industry and with those in the recycling and waste management sector to tackle the problem of recycling our PVC waste material.

One solution might be to develop an infrastructure where PVC based vinyl material is returned to the printer by the customer to be compacted, bailed and stored prior to shipping the waste product to an accredited specialist waste management recycling company. While this is already being done by a few of the larger printing companies, no waste management company is interested in dealing in 'smalls' from the majority of SME print providers.

Furthermore, in December 2018 the government announced plans, in a bid to avoid further landfill, for packaging manufacturers to pick up the burden of paying for recycling which will make sure that producers pay more in order to use the material that goes to generate plastic waste. While this sort of government action is not yet aimed at the large format printing industry, there remains a thirst from the public at large to see government tackling the problem of plastic waste head-on, and it can only be a matter of time before PVC and its associated products come under further scrutiny.

We need to effectively re-educate our customers about the PVC materials they are buying and moving the relationship away from just being about cost to what's right for the job, and in turn what is right.
Interested in taking part in SDUK 2020? View the brochure for more information: