A beginners guide to MIS (Management Information Systems)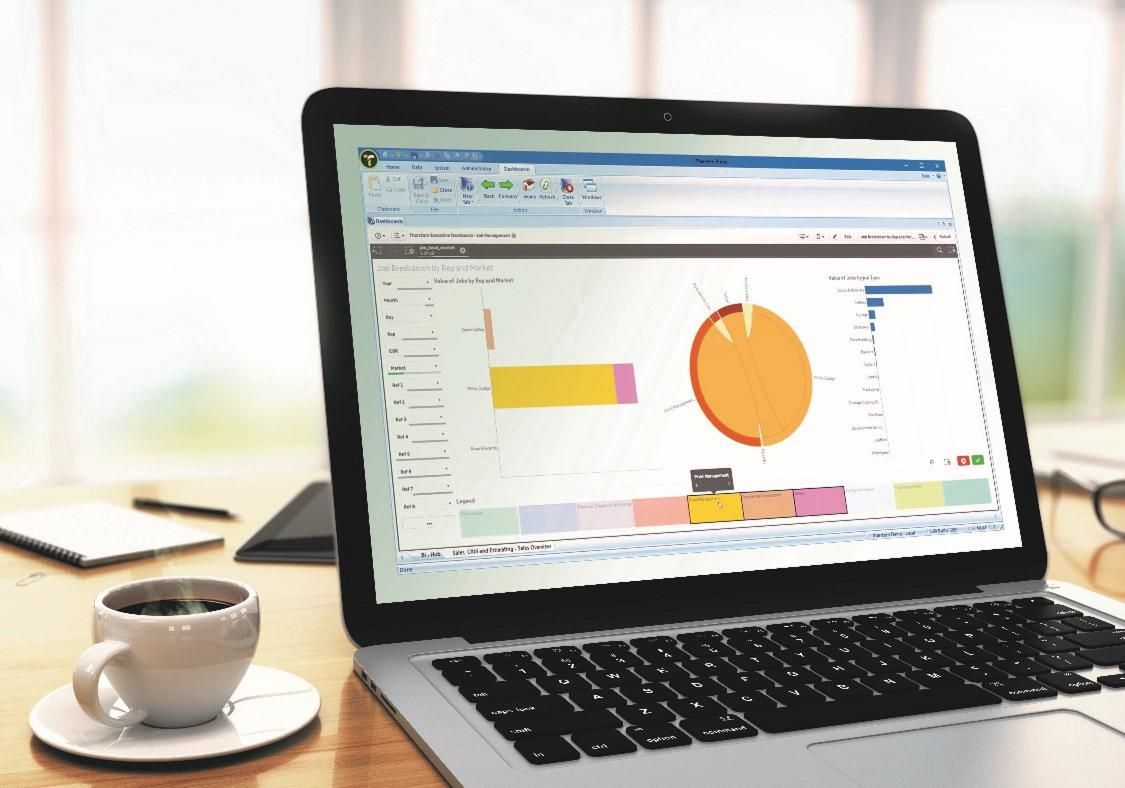 Not long ago I interviewed the owner of a well established retail point of sale display printing company who spent over an hour talking to me about all the different stages of his company's production workflow from pre-press through to finishing. The firm employed about 15 staff and could boast an impressive fleet of printing and finishing equipment, and when I asked what MIS (management information system) he employed to manage all of this busy production, he looked at me for what seemed like an eternity and asked: "What's an MIS?"

Most of his work was coming from a small handful of customers that had all been with the firm since day one. The work was never that varied and because it was mostly of the same type, he figured he knew the cost of the materials and labour to be able to price for the work. What he hadn't considered though was where he was making the most profit and by the same token, where he was losing money on certain jobs. This is where an MIS can pay dividends.
So what is a management information system? A management information system (MIS) is a computerised information system used for decision-making, and for the coordination, control, analysis, and visualisation of information in a company. The ultimate goal of the use of a management information system is to increase the value and profits of the business.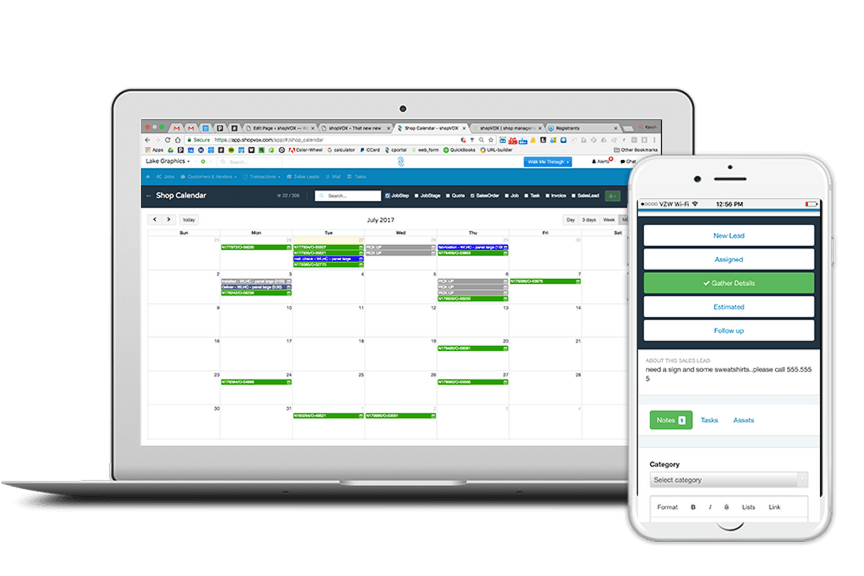 Until recently MIS software platforms have been Windows based systems operating on dedicated in-house servers supplied by long established MIS vendors in the printing industry such as Tharstern, Optimus, and Clarity Software to name just a few. However, the advent of cloud-based computing has opened the door for an Application based Software-as-a-Service (SaaS) cloud distribution model where the supplier hosts the MIS applications and makes them available to customers over the Internet in return for a monthly fee. Windows based systems lean toward high end functionality and are particularly well suited to large organisations, while SaaS systems are becoming increasingly popular with small business owners as the barriers to entry are lower.

At its very basic an MIS will enable you to produce job quotes from within its quoting element. Once a quotation has been prepared, based upon the actual costs of each element of the job from all of the required production, finishing and shipping processes (you will have already have input these costs into the software), the system will generate a formal looking quotation from your company that can be sent directly to the customer via email. The quote will then remain on the system while waiting for customer approval, and once approved, the system will select the various manufacturing processes of the job in preparation for production scheduling, and it is from here that a live job number or electronic 'docket' is produced that will be used to identify all elements of the job throughout the workflow.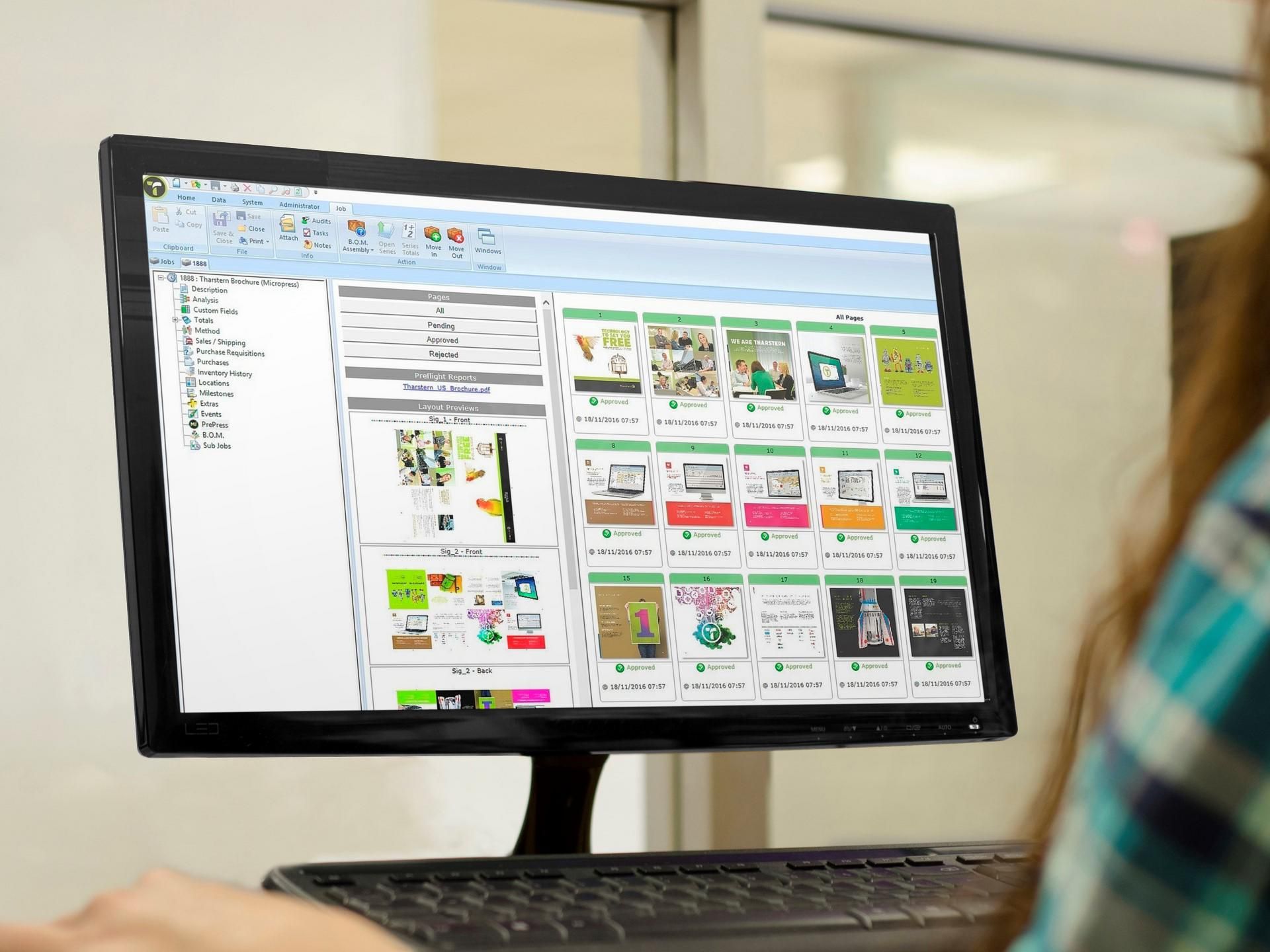 Production scheduling is where things start to get more complex. For example, scheduling calls upon information gathered either from individuals on the shop floor such as in the artwork studio or production facility, or directly from the production equipment itself. With an MIS you can hook up your production equipment via a series of application programming interface (API) links that enable you to view your printing, routing or finishing devices in real time, so whoever is scheduling the work can see what machines are currently busy, idle or even out of service. This is commonly called Shop Floor Data Collection.

Once all the elements of the job have been produced, finished and packed, some management information systems can even automate the shipping process via a module that connects to a courier company, and when the job has been delivered the system can send the customer an invoice. Many systems will also enable you to connect with popular accounting packages such as Sage.

These things alone are enough to save you a great deal of time in addition to increasing the overall efficiency of your business, but when properly used the MIS can provide you with any number of reports that will help you to identify anomalies within your printing business that might otherwise have gone unnoticed, and these could be costing you a lot of money.

According to Wayne Beckett of Resolve Business Management, the UK distributor for the SaaS MIS Keyline, analysing data from an MIS via reports is vital for the profitability of any printing company.
"A lot of printing firms use spreadsheets and price lists to estimate jobs," he says. "But what concerns me is that there are still many companies that do not have any reporting mechanism in place to find out if the actual cost has ever met the estimated costs. If asked whether or not they know how much they make on every job they run, they have no way of answering the question.

"The answer is to have an Estimated to Actual costs report. This is a simple report that our system can e-mail to you every evening or morning that shows you how much you have made/lost on every job you have run. It breaks it down by every department and if you were under estimated it is shown in black, and if you were overestimated it is highlighted in red. This simple report can potentially save a printing company thousands of pounds every year."

One of the more established MIS systems in the sign and display sector is Clarity, a Windows based MIS offering. Clarity Software's Imran Hussain describes Clarity as the most over-achieving employee you've ever had: "It knows everything about your customers; can accurately estimate any job in seconds; sort out all your scheduling problems and tell you exactly how profitable every job will be," he says. "Therefore when planning for business growth, it's crucial that you have a way of reviewing your business performance. Accountancy software will show financial performance, but not where you can turn the dial up on profit and down on loss. With end-to-end systems nowadays, you can analyse exactly which customers, products, months, and even employees generate the most and least income. With this visibility it's easy to see where growth opportunities lie."

Bristol based Voodoo DesignWorks is a well equipped design and sign manufacturing company operating large format print hardware, sign-making routers and automated print finishing systems. In 2017 the company turned to Clarity Software to provide visibility over its whole workflow to keep better track of jobs and provide better process streamlining. Areas within the workflow also needed to be improved and greater visibility was required to ensure the business was operating at maximum efficiency.

Voodoo company director Julian Dobson says that since the MIS went live, nothing has fallen through the cracks. "We now know exactly what it is costing to make things and what their time is worth," he says. "Clarity lets you look at your business from any perspective and when you do it's surprising what you find. You can see what's making you money. You can also see what is wasting your time and where effort is wasted."

Custom fabrication businesses and small sign shops who are looking for a simple low cost solution for getting things done might want to consider shopVOX, a comprehensive, easy-to-use SaaS cloud-based software tool from US based Techvox Inc. With more than 3,000 customers worldwide, the company recognises that no two custom shops are ever the same and that one size doesn't always fit all, so shopVOX provides custom pricing and custom workflows based on specific business needs. With shopVOX users are able to manage sales leads, quotes, inventory, production, invoices, staff, customers, and materials suppliers.

"It's such a difficult thing if you are a small sign or print company trying to work out whether you need to make that next step up from a Word doc/Excel spreadsheet or even scribbled on paper," says shopVOX's Haylee Benton. "My advise is to make the move to a step-up business software programme as soon as possible. Don't have the thought that you are too small as it is far better to implement when you are smaller rather than waiting to expand. Think of your new software as a process to move the business forward. It is an investment that you will get back fourfold with your time. You may look at a software that you think is perfect for you but are put off by the price. What you need to do is learn to look at it in a different way and truly think about the time it could save you, and equate that back into money terms."

Printlogic is another low cost cloud based MIS offering that can be operated from PC, Mac and even mobile devices. The software provides everything a print company requires to manage their printing business from estimating, outsourcing, producing job sheets, delivery dockets, stock control, accounts, management reports, marketing, and includes a shared diary system.

Sheffield-based commercial printer Myprint Partners offers a full in-house print service from litho through to digital and wide format printing. In 2016, managing director Richard Green took the decision to move forward with Printlogic, finding the software very simple and straightforward to implement. "It required minimal information to get up and running on it initially and the support team were very helpful and responsive," he says. "They provided expert guidance on the system and displayed an obvious knowledge of the industry - not just their own software. We have found it to be extremely reliable and the system helped streamline our business, reducing our admin by an estimated 75 percent. It ties in with our accounts system and provides us with a seamless end to end process."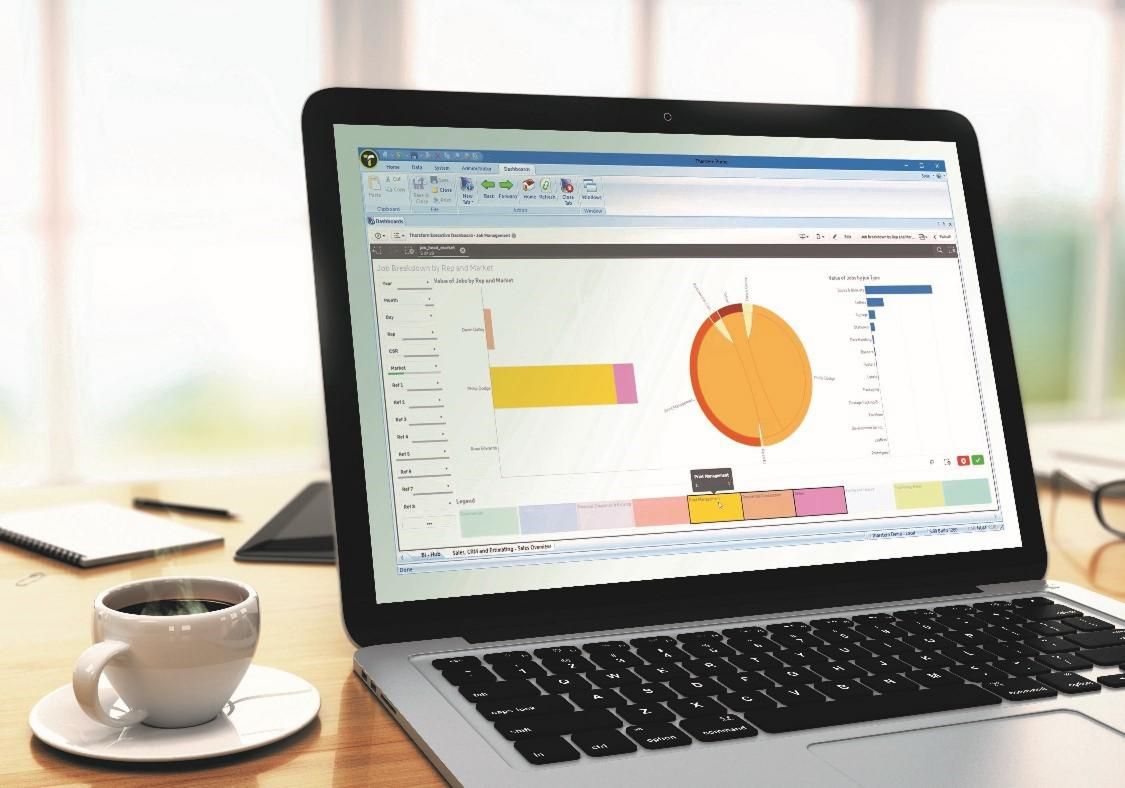 Tharstern, whose Windows based MIS solutions for large format customers can easily manage complex multi-element campaigns from estimating through to production, delivery and even installation, takes the pragmatic view that selecting the right management information system for your business is neither a quick fix nor an easy task, and getting it right will require a considerable amount of time and effort to research and find a system best suited to meeting your company's individual/custom workflow needs and wants.

According to Tharstern's marketing manager Amanda Newman, many printing companies invest in an MIS in the belief that it will make everyone's lives easier. "Unfortunately, this just isn't the case," she says. "Companies don't implement a new MIS to give everyone more free time or to lessen the amount of skills and experience their staff need; they implement a new MIS because they want to be better, quicker and smarter. They want to improve how they're doing things now and improve on how their competitors do things. They want to give better and faster customer service and to reduce repetitive admin tasks so their team can work on more important things. They want to improve audit trails so they can achieve quality standards, and they want to do cool things with new technology. Better? Yes. Easier? Not necessarily."
Making MIS work for you
One of the biggest mistakes that any company can make when adopting an MIS is to underestimate how steep the learning curve can be. While a carefully implemented and integrated management information system can help print businesses optimise the flexibility and efficiency of their processes in previously unimagined ways, the road to MIS nirvana is littered with companies that have fallen by the wayside because they failed to do their research properly. A good tip is to make a short list of systems to audition and ask the vendors to introduce you to some users, preferably companies operating in your sector of the market. You'll be able to get some first-hand experience of how the MIS was implemented and how it's being used. Moreover, this is a good way to uncover any potential pitfalls you might encounter moving forwards such as with training. Be sure that the system you eventually choose comes with the type of training that your whole team can work with and fully understand.
A successful implementation should involve input from the whole of your team right from the beginning, and while a quick implementation is going to seem desirable, be aware that such change cannot be achieved in a couple of days. Introduce the MIS slowly and in stages at first, over a period of months.
For example, start by switching on just the quotation software to begin with to get everybody used to working with it. Then, once all of the wrinkles have been smoothed over, you can move onto the next stage of the implementation and so forth. Along with the lack of employee involvement, unrealistic goals and unforeseen errors with scheduling are among the most common reasons for the failure of implementation projects.
A management information system will ultimately help your company become more competitive. You will be able to look at reports and identify what is working and what is not, and when you are powering through quotations and automating the production scheduling process - you won't regret your investment. Now all you have to do is find a system best suited to you and your business.
Interested in taking part in SDUK 2020? View the brochure for more information: