Large Format Review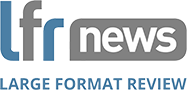 Large Format Review is a news portal for the sign and wide-format display print industry. We publish breaking print news updates every day, and issue a weekly news summary via email bulletin.
Responsive and fully mobile-optimised, the Large Format Review website is all you need - on smartphone, tablet or desktop - for breaking digital print industry news, and provides the very latest on all that's new and relevant to the sign and wide-format display print professional.
For your convenience we also syndicate our regular news updates on social media channels including Twitter, Facebook and LinkedIn - the intention being to provide you with a rapid and easily accessible source of wide-format print industry news, from all of the leading industry manufacturers, in a format and on a platform that is most convenient and effective for you.