Roland VersaUV LEF2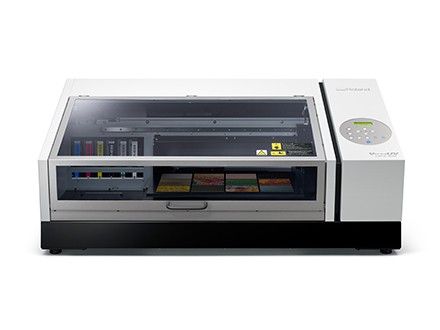 Print Colourful Images on Demand and on Almost Anything
The VersaUV LEF2-200 makes it easy to print stunning, premium-quality photographs, graphics and text on almost anything. Unlike other inkjet printers, ECO-UV ink is cured instantly on the surface of the material, allowing you to print directly onto PVC and plastics, canvas, wood, leather, fabric, etc. White ink is also available to ensure that colours pop on dark or clear substrates. Optional primer ink cartridge provides increased ink adhesion on substrates like acrylic and glass.
Print Gloss and 3D Embossed Finishes
In addition to full colour printing, you can produce premium quality gloss and matt finishes as well as amazingly lifelike textures including simulated 3D embossing with multiple layers of Clear ink. Seventy-two ready-to-use texture patterns are included to use immediately after installation, or you can create your own special effects.
Print Just One or Many
With VersaUV LEF2-200, you can print as few as one item at any time on demand. It gives you the versatility to create prototypes, check the finish of a printed image, produce a special one-of-a-kind gift, or print a small volume of items in-house.
High Quality Output, Performed Easily and Efficiently
The LEF2-200 incorporates a host of advanced functions to simplify high quality print jobs. A Start Timer Function completes the setup procedures of printhead cleaning and white ink circulation automatically by your designated start time. A positioning jig makes it easy to align items on the print table.
From Hard to Soft Materials and From Flat to Curved Objects
Capable of stretching around the most complex corners and curves as well as printing on soft materials such as leather and fabric, advanced Roland ECO-UV ink formulations are designed for both flexibility and beautiful imaging. Materials up to 100 mm (3.94 in.) thick can be loaded. The VersaUV LEF2-200 also supports an optional rotary axis jig for printing onto bottles and other cylindrical objects.
High Reliability and Safety
The LEF2-200 adopts a new cleaning system. A Head Refresh feature removes any ink remaining on the printheads and cleans the printhead surface to maintain the health of your printer. The airtight cover protects operators from UV light and prevents dust from settling onto the surface of materials while printing.
Powerful VersaWorks RIP Software Included
The VersaUV LEF2-200 includes the latest VersaWorks 6 RIP software, featuring an intuitive interface for easy operation and job management.