Mimaki UJV100-160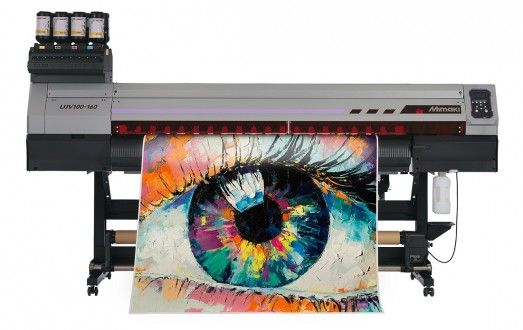 Introducing the UJV100-160, Mimaki's newest roll to roll LED-UV printer, with excellent operational performance, image quality, speed and cost. Configured with brand new LUS-190 ink and two newly developed heads, the UJV100-160 is a high quality, high productivity UV-curable inkjet printer.
Suitable for applications such as: Outdoor signage, Indoor signage, Stickers, Back-lit signage, Banners, Labels, Wall Graphics and so much more.
NEW! Newly developed LUS-190 UV LED Inks
Mimaki LUS-190 is an environmentally-friendly ink that offers three configurations to suit your business needs. Available in 6 colours: Cyan, Magenta, Yellow, Black, White and Clear and carries the GREENGUARD Gold certification which is guaranteed to be suitable for schools and medical institutions based on the strictest chemical substance diffusion standards in the world.
High-speed printing at a maximum of 23m²/h* combined with quick turn-around timescales
As no drying time is required because the UV ink is cured instantly by irradiating UV (ultraviolet) light immediately after printing, a drying process is not needed. Therefore, it is then possible to perform installation or lamination immediately after printing consequently improving productivity and allowing you to handle orders with quicker delivery.
Mimaki technology features that enable stable and high-quality print
The UJV100-160 is equipped with DAS(Dot Adjustment System), a function to automatically adjust the dot position and feeding amount that affect print quality. When media or printing conditions are changed, an adjustment of ink dot position and media feed amount to suit is necessary. As the DAS automatically performs these operations, printing can be performed without any labour or variations in adjustments by the operator.
MAPS4 (Mimaki Advanced Pass System 4) reduces banding and uneven colour printing with blurred boundaries similar to gradation printing.
NCU (Nozzle Check Unit) detects the status of nozzles automatically. When the NCU detects a missing nozzle, it automatically performs cleaning. If cleaning does not solve the problem, NRS (Nozzle Recovery System) automatically replaces the defective nozzles with other nozzles, which enables users to continue the print operations without waiting for a repair by a technician.
There is a media jam sensor preventing damage to print heads, a head strike or a media jam.

Why Choose the UJV100-160?
Great for entry-level printers
Print resolution of up to 1,200 dpi
It is versatile and prints in high quality on a variety of different media
Rapid production with quick drying times
Cost-effective to run with ink 1L ink packs