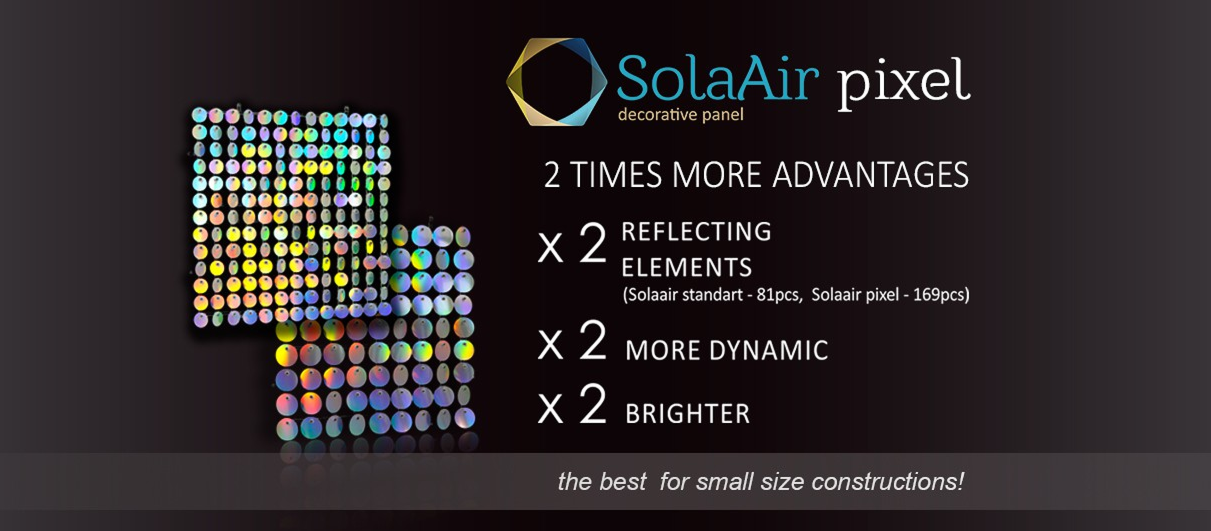 Air active panels and boards with sequins for shimmering walls, signs
We are is the no.1 choice for high-end sparkle
Advertising design with glitter, paillettes, sequins, flakes, sparkly, sparkling, shimmering, glistening, living signs, signs with sequins, air signs, signs with flickering and movable reflective elements, circles, shining advertising or billboard sequins, this technology has a lot of interesting and characteristic features, all of this innovative technology "SolaAiR®", developed by specialists of the scientific-manufacturing company "Reflective Technology".
SolaAir® - unique technology
Created and manufactured in Russia
Elastic and flexible
The panel can be mounted on an uneven surface
Designs of any size
From 30 cm to unlimited number of square meters
Easy to install
Connecting elements
enough to snap in between
panels and the design is ready, no
need to use a basic substrate
Durability and strength
Panels are made from high quality materials that provide
service life up to 10 years
Easy throughout
Panel in 5 times lighter than analogues, is attached to the surface with screws, brackets and even two-sided adhesive tape.
Own production, support, logistics.
We offer you the best value products through the full cycle
production of components and materials.
Technology SolaAir® is protected by patents
SolaAir® is a registered trademark
Law are protected by patents
We have partners around the world.
Companies that trusted us!
In the UK we work with
All Things Decor LTD
Address
Unite 6, Flexspace
Unite 6, Flexspace
Enterprice Close
Mansfield
Nottinghamshire
NG19 7JY
United Kingdom